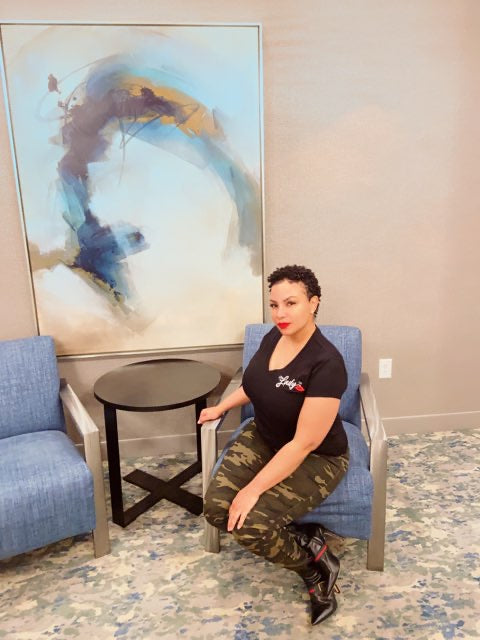 Lady of the Week💋-Catherine D. Yuvienco
Catherine D. Yuvienco (Cathy) is a Decorated Major in the United States Air Force and has been fortunate to Commission as a Registered Nurse-Direct Accession since 2010. She attended Hampton University and graduated with a Bachelor Science in Nursing in 2004 while caring for her sons; De'Andre (in heaven) and Elge (LG), now at Xavier University.
Upon graduation, she accomplished passing her NCLEX Boards, and attained the title "Registered Nurse" and has been a nurse since 2004, where she originally perfected her craft in the first six years at Duke University. She excelled in Duke's nurse residency program as a Critical Care Registered Nurse, in the Cardio-Thoracic Intensive Care Unit (ICU). Her specialty consists of Heart & Lung Transplants and a variety of other cardiothoracic surgical procedures. 
Also, she is dually trained in operating and caring for patients requiring Extracorpeal membrane oxygenation (ECMO), which is when blood is pumped outside of your body to a heart-lung machine that removes carbon dioxide and sends oxygen-filled blood back to tissues in the body. ECMO is used in critical care situations when your heart and lungs require assistance in aiding a patient with the healing process. This device could also be utilized for patients who suffer from COVID-19, ARDS, and other infections.  
She also specialized in Ventricular Assist Devices (VADS), which are utilized in patients as an alternative/bridge to a heart transplant. In her career, she had the opportunity to experience the Base Realignment and Closure (BRAC) by transitioning from Lackland AFB in San Antonio, TX to Brook Army Medical Center (BAMC). 
With her level of expertise, she deployed immediately to Bagram, Afghanistan, all within her first year. During her deployment, she was responsible for writing a protocol and order set using the Hypothermia Protocol downrange, which saved a twenty-nine-year-old African American male soldier who suffered an immediate Cardiac Arrest. This protocol played an integral part in saving the lives of four others. 
Upon her return from deployment, she continued to work as an open-heart nurse. Cathy collaborated with a team of surgeons and nurses, where she was responsible for creating an Insulin driven nurse protocol for Open Heart patients, and later receiving publication for her phenomenal efforts. 
From there, she received her second assignment at Ft. Belvoir Community Hospital with a dual assignment at Joint Base Andrews, MD where she operated within the ICU. However, it wasn't long before her expertise and knowledge were noticed before she was relocated after a year for a special assignment as a Medical Group Executive Officer for seventeen months. 
After the completion of her assignment, she volunteered for deployment for seven months, to the Aerospace Staging Facility, where she cared for patient's status post-injury from their overseas deployment and was responsible for transitioning those patients to their final destination. 
From there, she was the Element Leader for one month, before being hand-selected as a Medical Liaison-Executive Officer. In this position, she was responsible for merging two Medical Groups under the 11th Wing as an Exec and received a Meritorious Service Medal before her departure. 
After, she landed a position as the Flight Commander of Critical Care Unit (CCU), next selected as an Emergency Services Clinician responsible for writing protocols, and operating instructions.  Cathy was then selected to transition into Outpatient Nursing, in her current position as the Nurse Manager of the Family Health Clinic in Las Vegas, NV. 
It is her dream to continue within the leadership track and to eventually take on a new role as Congressional Liaison, if accepted in the Fellowship in Washington, DC.  
Aside from her life in the military, Cathy is a member of Alpha Kappa Alpha under Phi Gamma Omega Chapter in Baltimore. She was also inducted into Sigma Theta Tau National Honor Society, American Nurses Association, American Association of Critical-Care Nurses; certified as a Critical Care Registered Nurse (CCRN).
Cathy prides herself on supporting her son with his journey in pursuing his degree in Neuro Science Pre-Med at Xavier University.  Lastly, with her passion for writing, she decided to write a Non-Fiction novel based on a true story soon to come.
Catherine is a perfect addition to the Lady Bugs💋
To find out more about Cathy visit her instagram at _Cdmartinez
Hey Lady💋™ 
Recent Post
Custom Menu
Archive
May 2022
April 2022
March 2022
February 2022