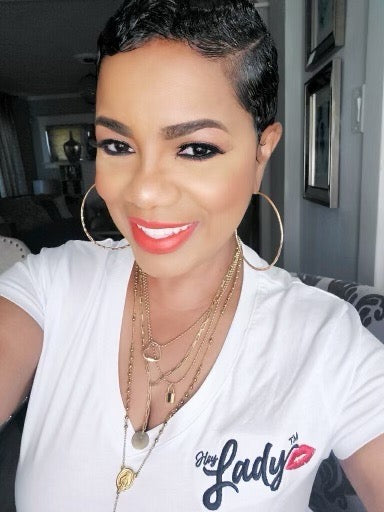 Lady of the Week💋 Tracci Johnson
Named one of the 50 most influential women in the beauty industry, and one of the top 10 African American stylists in the country, Tracci Johnson, owner of Leggaci By Tracci Johnson, is a celebrity hairstylist and cutting expert. Known for her ability to create sophisticated trends on stage, in film and television, and the salon, she started her career 35 years ago in Oakland, California where she attended The Institute of Cosmetology.
It didn't take long for her talent to be noticed—Oakland's premier salon, Center Stage West recruited her as an assistant to the late Ron Newton (son of Black Panther leader Huey P . Newton). Shortly after, she became one of Oakland's top stylists.
In 1990, she moved to Los Angeles and eventually became the owner of the well-known, Eclipse Salon, on Melrose Ave—named as one of the top 10 urban salons in the country.
By strategically positioning her brand, she opened the doors to be featured in several publications as In Style, Essence, Cosmopolitan, Vogue, and Upscale and graced the cover of Sophisticates Black Hair.
Tracci accumulated a very extensive client base. Celebrities who have experienced her service at one time or another, including but not limited to Cicely Tyson, Lynn Whitfield, Jada Pinkett Smith, Nia Long, Tisha Campbell, Tichina Arnold, Mc Lyte, Natalie Cole, Keisha Cole, Ce Ce Winans, EnVogue and Babyface.
Featured on several makeover shows, her work has graced The Academy Awards, The Sag Awards, The NAACP Awards, The American Music Awards, The Grammy Awards, and The Soul Train Awards, not to mention many CD covers and videos for various R&B artists.
When asked to explain her success, Johnson replied, "the key to my success is having faith in Christ, putting Him first, and surrounding myself with people who lift me spiritually and mentally."
Tracci is the perfect addition to the Lady Bugs!🐞
To learn more about Tracci Johnson visit her on Instagram at Traccijohnsonw and legaccibytraci
Hey Lady💋
Recent Post
Custom Menu
Archive
May 2022
April 2022
March 2022
February 2022